Location: Fish Lake, UT
Event Date(s): September 9, 2023


Pre-Meeting: 7:15AM at Joe Bush site (see map image below)
Dive Start: 8AM
Dive End: 2PM
Weigh In Time: 2:45PM at Joe Bush site
Weigh in Location: Joe Bush Site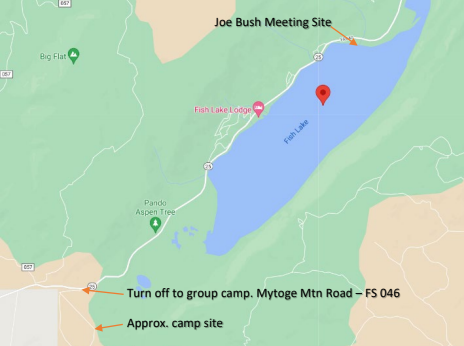 Rules:
Pro

Unlimited Perch - 1pt/fish
Unlimited Sucker - 3pt/fish
Unlimited Carp - 3pt/fish
1 Trout - 5pts



Novices

Unlimited Perch - 1pt/fish
Unlimited

Sucker

 

- 3pt/fish
Unlimited Carp - 3

pt/fish

1 Trout - 5pts
All Game Fish regulations apply to other species. Only fish species listed will be eligible for the tournament.
Additional Details
Come ready to dive at the pre-meeting at 7:15 AM at Joe Bush site on map below. You can bring a boat for your team or there is great diving from shore.
Diving with a partner is encouraged for safety (keep fish separate for each diver), dive flag required for every diver, scuba welcome. Plan on water temperature near 60 degrees and visibility around 10' to 25'. This is a holiday weekend, which adds to the need for safety and respect!
Guns in the water from 8 AM to 2 PM. All divers must be back by 2:45 PM to the Joe Bush site for the fish count.
3:30 to 5 PM free dinner and awards at the Joe Bush site.
Need a Fishing License?
Information on Fishing Regulations
All divers competing for awards will need to be register with NFSA prior to the dive. All divers will need to complete the liability waiver at the pre-meeting. Youth divers will need a legal guardian to complete their waiver prior to diving. This event is free to participate in! Only registered members will be able to win prizes. Please join NFSA to win prizes at this event. Join at home before the event.
For additional questions email us at nationalfreshwaterspearfishing@gmail.com